6 ذو الحجّة, 1439
! برنده یک یک پرواز برای بازدید از عزیزان شما در سراسر جهان شوید
Eid al-adha 2018 is here! TransferGalaxy is celebrating this Eid in a special way, and we would like to see how you too are celebrating!
How to enter:
Follow us on Instagram @transfer_galaxy

یک عکس بگیرید و آن را به انستاگرام پوست کنید - تصویری که نشان بدهد چطور عید را با ترانسفرگلکسی و عزیزان تان جشن می گیرید 

Tag @transfer_galaxy in the description

Include the hashtags #TGEID and #TG_TheCountryYouWantToVisit (e.g. TG_Morocco) in the description
:این گونه باید به نظر برسد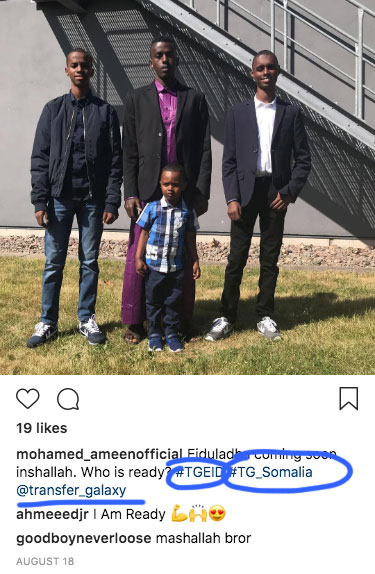 :شرایط و ضوابط
      .برگزار کننده رقابت ترانسفرگلکسی است که دفتر آن در سویدن راجستر است -
:قوانین ورود به رقابت به شرح زیر است
follow TransferGalaxy on Instagram @transfer_galaxy;
یک عکس بگیرید و آن را به انستاگرام پوست کنید - تصویری که نشان بدهد چطور عید را با ترانسفرگلکسی و عزیزان                 تان جشن می گیرید    

tag @transfer_galaxy in the description; and

include the hashtags #TGEID and #TG_TheCountryYouWantToVisit (e.g. TG_Morocco) in your description.
The most creative picture posted on Instagram will be the winner of the competition as determined by a jury consisting of TransferGalaxy's employees. The decision cannot be appealed.

The competition runs from 17th August to 31st August 2018. Entries submitted to the competition before or after the respective dates will not be permitted.

No responsibility can be accepted for entries not received for whatever reason.

Participants must be 18 years and older.

The prize is personal and cannot be assigned to any other person.

The winner will receive a return flight ticket in economy class to visit any of his/her loved ones from one of our 25 sender* countries in Europe to one of our 40+ current and up-and-coming recipient countries**, subject to the following conditions:
the price of the ticket shall not exceed SEK 15,000;

the trip shall take place before 1 September 2019; and

the winner shall provide TransferGalaxy with reasonable time and the information necessary to purchase the ticket.
The winning picture will be posted on TransferGalaxy's social media.
TransferGalaxy will contact the winner through Instagram between 5th September and 7th September 2019. The winner shall accept the prize no later than two weeks after being contacted by TransferGalaxy. Otherwise, the prize will go to the first runner up.
TransferGalaxy will reimburse up to 30% income tax on the actual value of the prize to the applicable tax authority. Any applicable tax in addition thereto will be paid by the winner.
After the competition, TransferGalaxy may contact the participants with information about TransferGalaxy's service.
By entering the competition, you agree to be bound by these Terms & Conditions and TransferGalaxy's Privacy Policy.
These Terms & Conditions are governed by Swedish law. 
*TransferGalaxy sender countries: Austria, Belgium, Cyprus, Denmark, Estonia, Finland, France, Germany, Greece, Iceland, Ireland, Italy, Latvia, Lithuania, Luxembourg, Malta, Netherlands, Norway, Poland, Portugal, Slovakia, Slovenia, Spain, Sweden, United Kingdom
**TransferGalaxy current recipient countries: Djibouti, DRC Congo, Ethiopia, Fiji, Ghana, Indonesia, Kenya, Madagascar, Malawi, Niger, Philippines, Rwanda, Somalia, Somaliland, Sri Lanka, Uganda, United Arab Emirates
**TransferGalaxy up-and-coming recipient countries: Afghanistan, Algeria, Bangladesh, Burundi, Cameroon, Egypt, Gambia, India, Indonesia, Ivory Coast, Jordan, Lebanon, Morocco, Nigeria, Pakistan, Palestine, Senegal, Tanzania, Tunisia, Turkey